TREASURE SCOOPS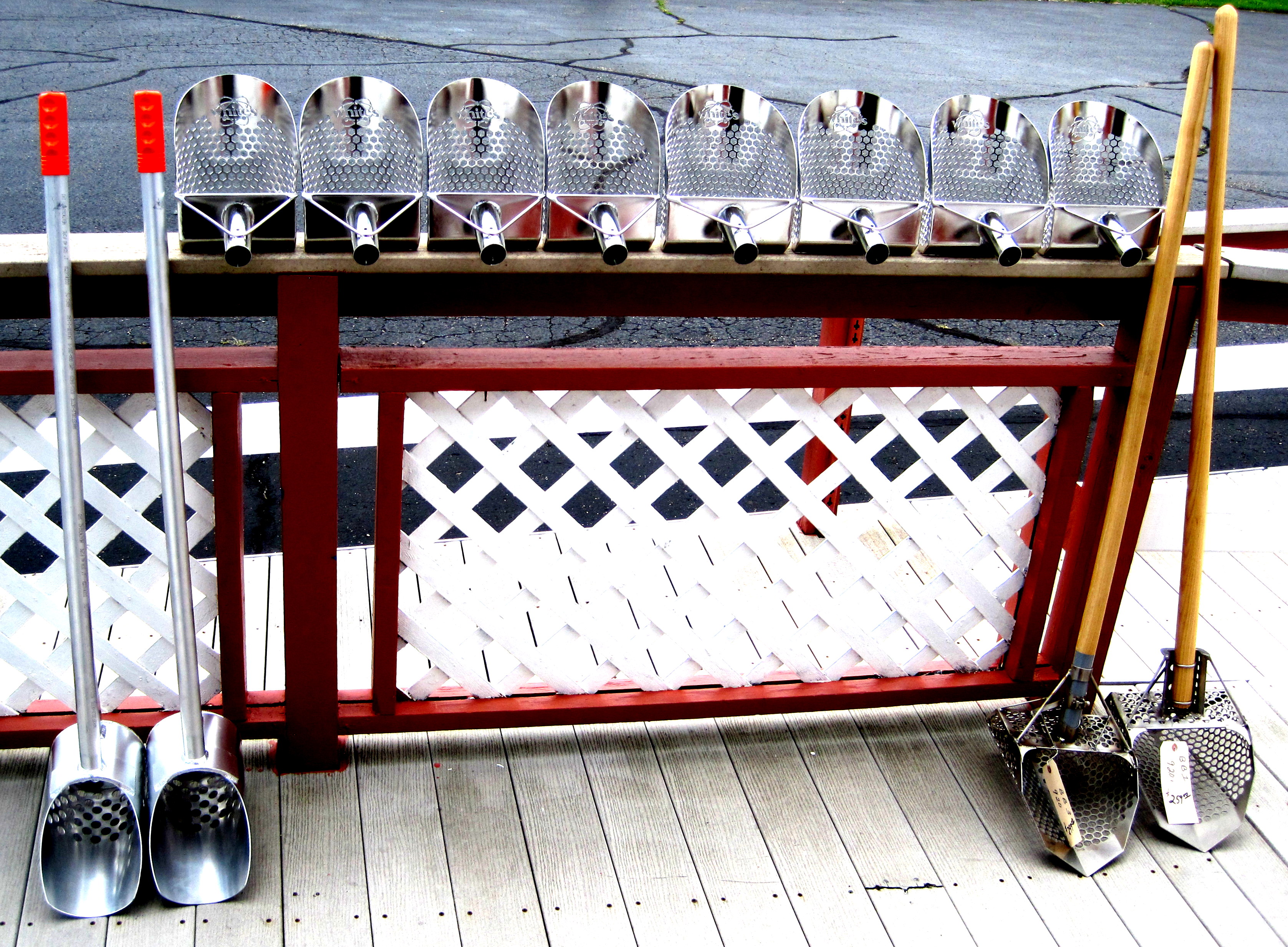 ---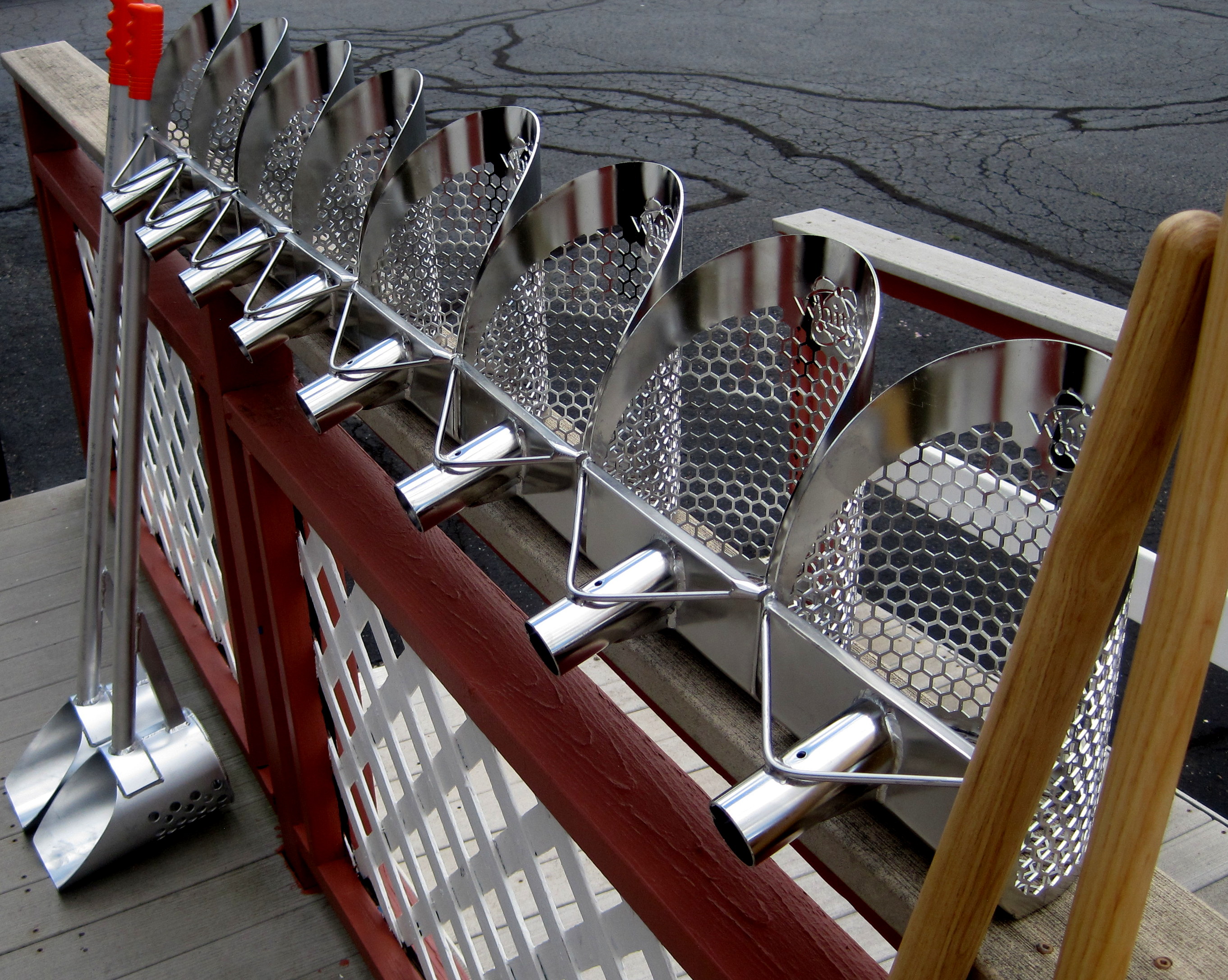 Featuring the New Whites Hex Scoop!
With 7/16 hexagonal-shaped holes this is a great water, surf & beach scoop!
The honeycomb pattern traps more of the fine gold-and-silver chains, and small jewelry, without compromising quick drainage!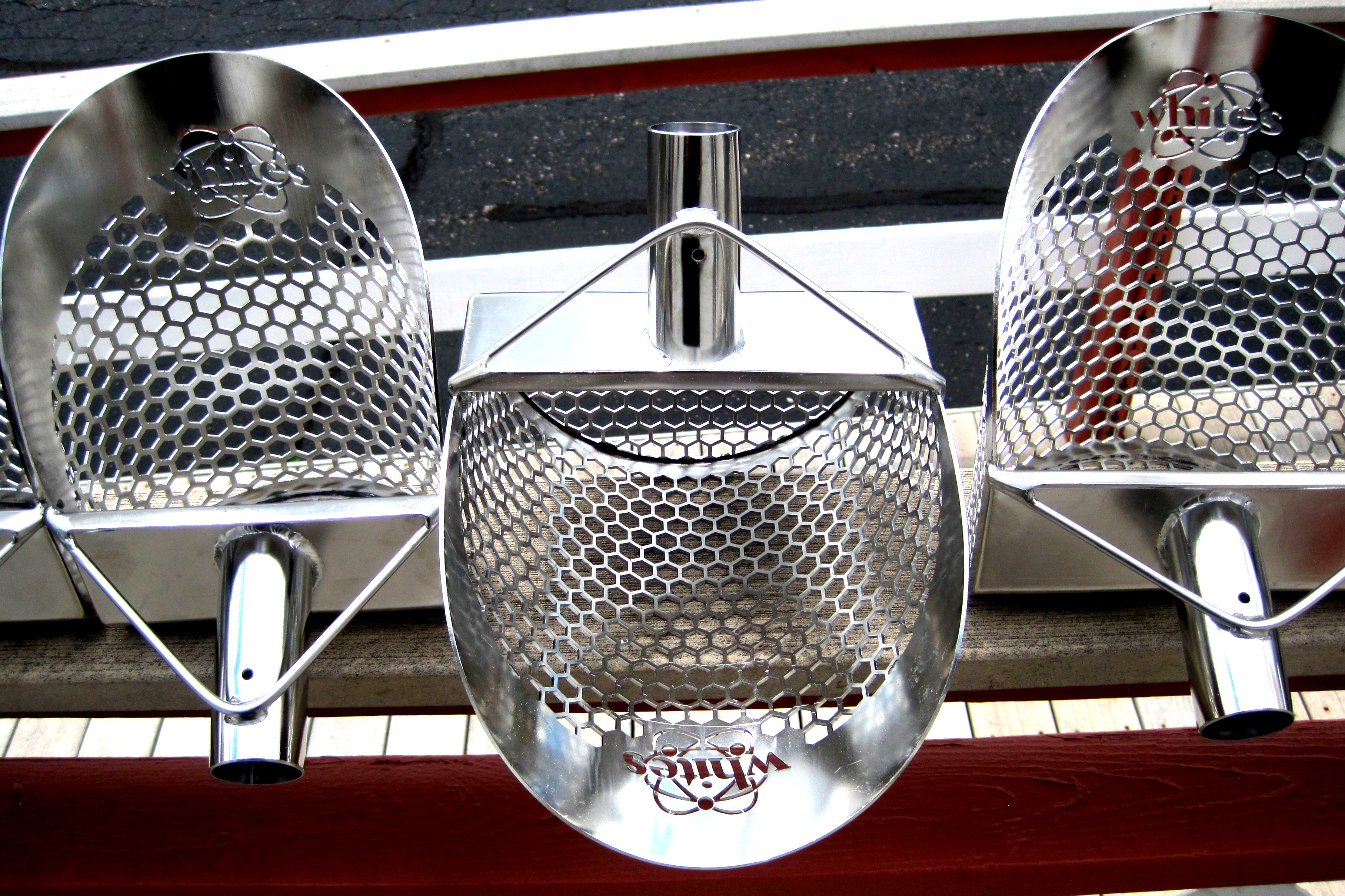 HexScoops are made of non-magnetic food-grade stainless and built to take a beating for years to come!
The large scoop Basket measures
8" wide
4.5" Tall
9.5" deep

8" $129.00



HexScoops are not sold with handle. A common 1.5" post-hole digger handle can be purchased at a farm supply or most good hardware stores.

---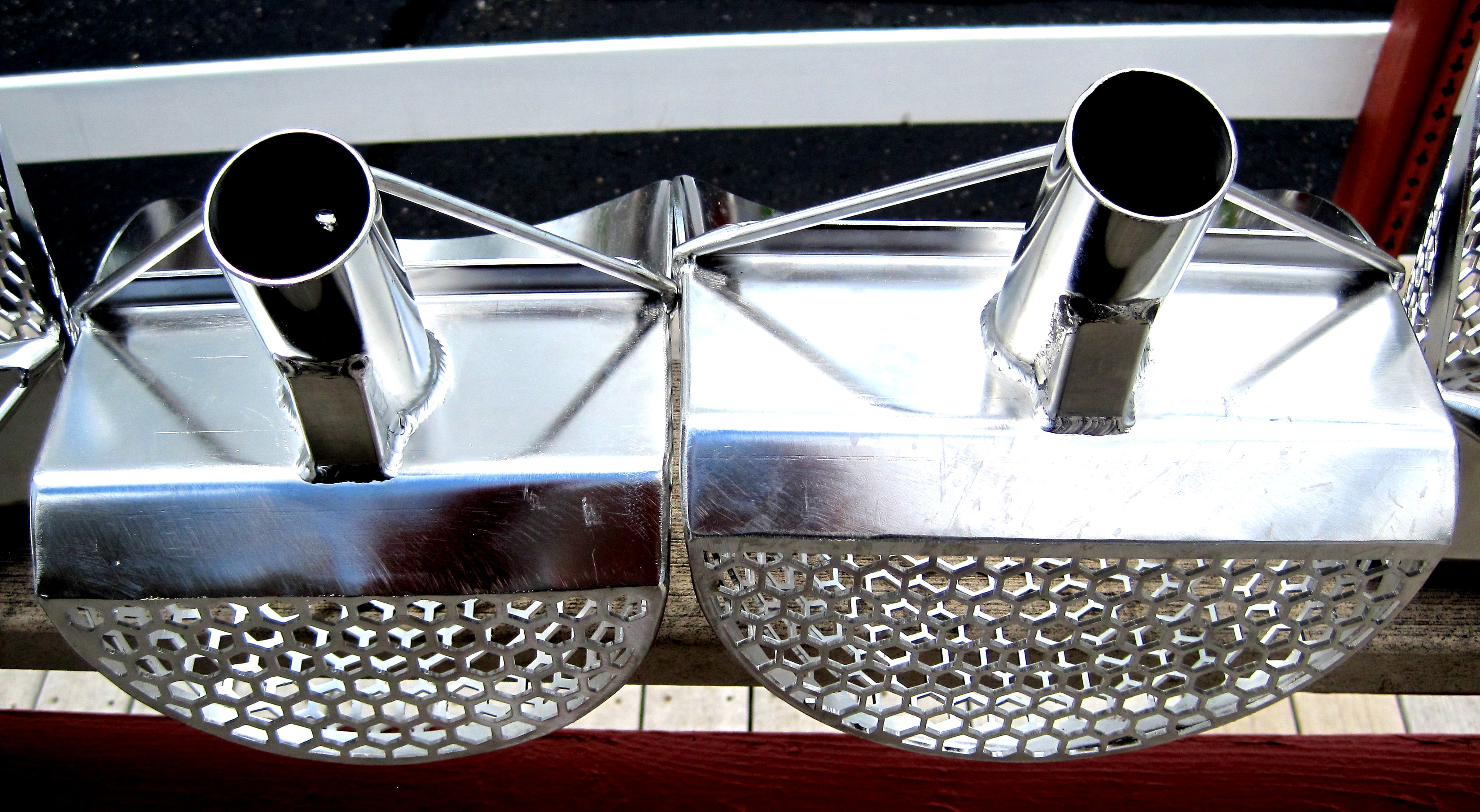 The single small-hole in the handle mounting tube is for adding a retaining screw . . to hold wood handle in place. Once the wood handle is wet, it swells! This creates a strong bond.
You could also use a metal tube for a handle, but I prefer wood. With a wood handle, the handle will float upright making it easier to locate if you release it.



TIP:

With the scoop basket facing forward, mark the wood handle with a notch and add some stain or black marker so you can see, at a glance, the direction of the scoop basket.

---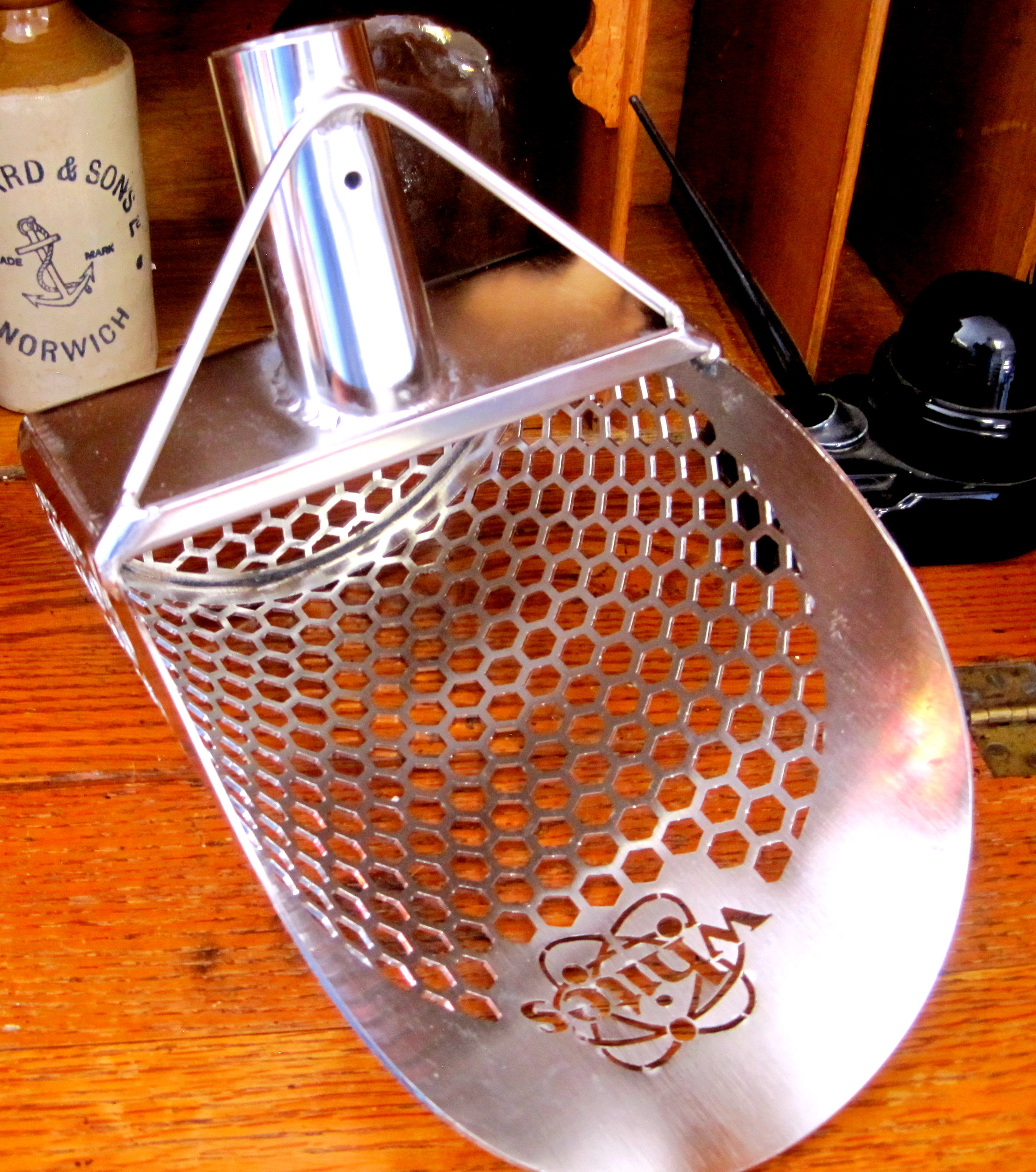 Pictured here is the 6.75" HexScoop
The handle tube is braced in the front, and gusseted in the rear for strength.
The lid supporting the handle mount, also serves as a barrier to help foil an beer-tabs from fluttering out as the scoop is raised.
Another benefit of the top handle mount, is the throat of the treasure basket is easier to clean without a handle being in the way.
6.75" $119.00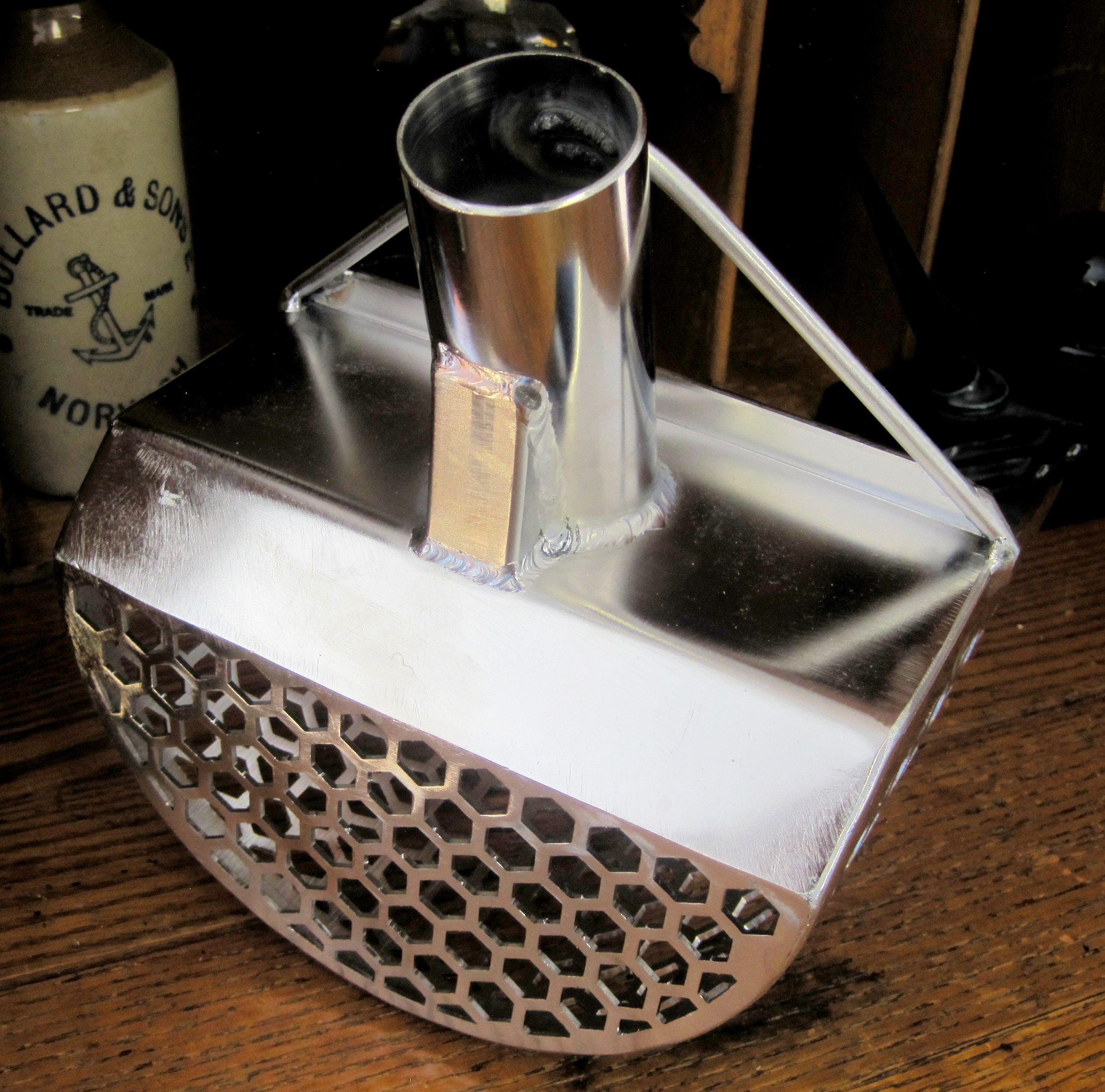 This beveled flat-area makes a good stepping surface for aggressive digging.


TIP:

One of my customers bonded a section of truck-tire tread to this flat strip which really works well and it looks cool!

The back wall is loaded with hexagon holes making for a quick drain scoop!

The scoop is tig-welded for strength and clean lines!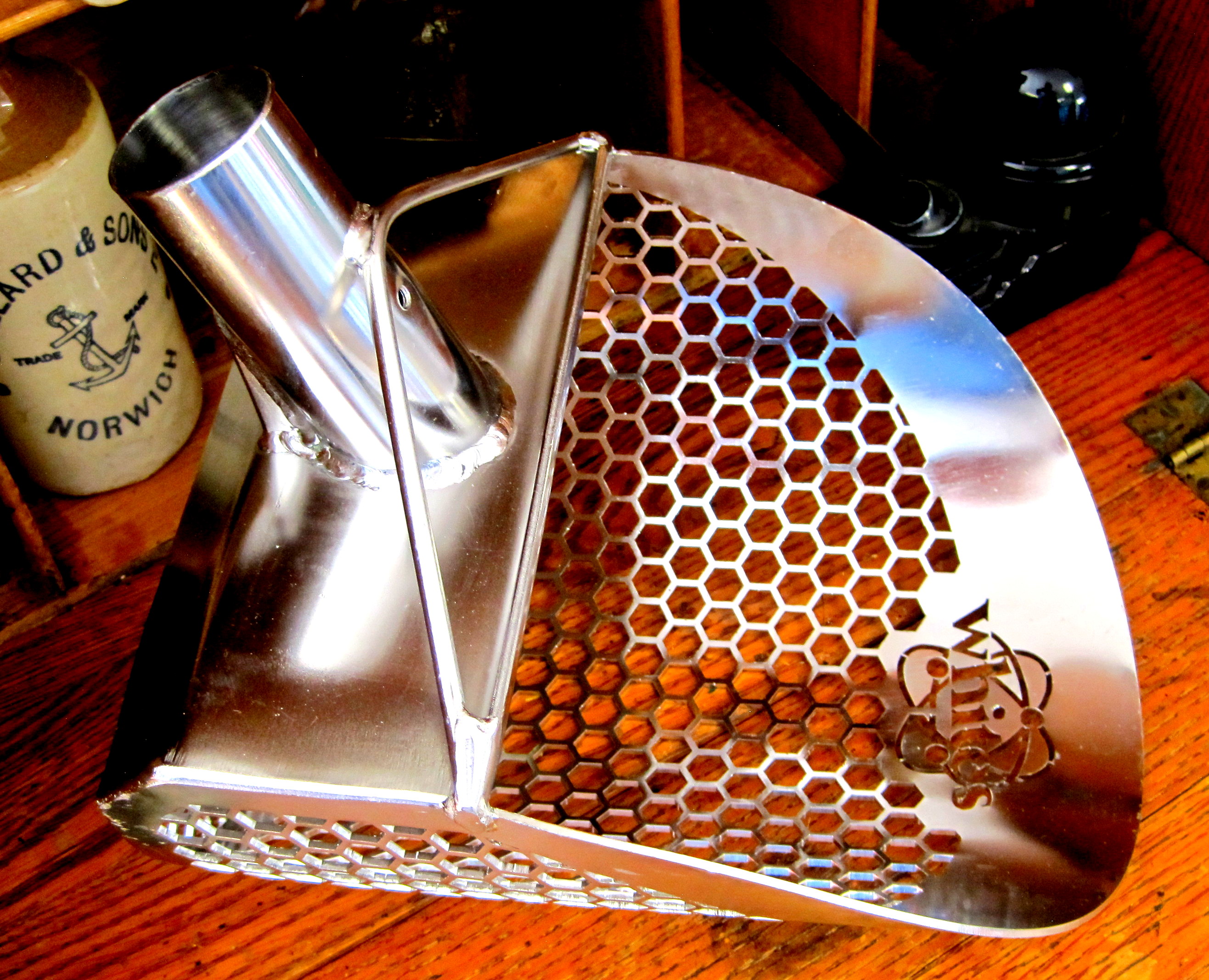 Here is another angle showing the quality of the laser cut basket. Pictured here is the 8" basket.

So, which one to choose?

Both scoops are a breeze to work in sugar sand, but, in a clay-bottom lake or river, you will find yourself into lifting real-estate!



TIP:

Both baskets will get the job done, but as an old timer, I like the 6.75 basket . . . less lifting!

---
This is the famous RTG All Aluminum 6" Water Hunter's Scoop!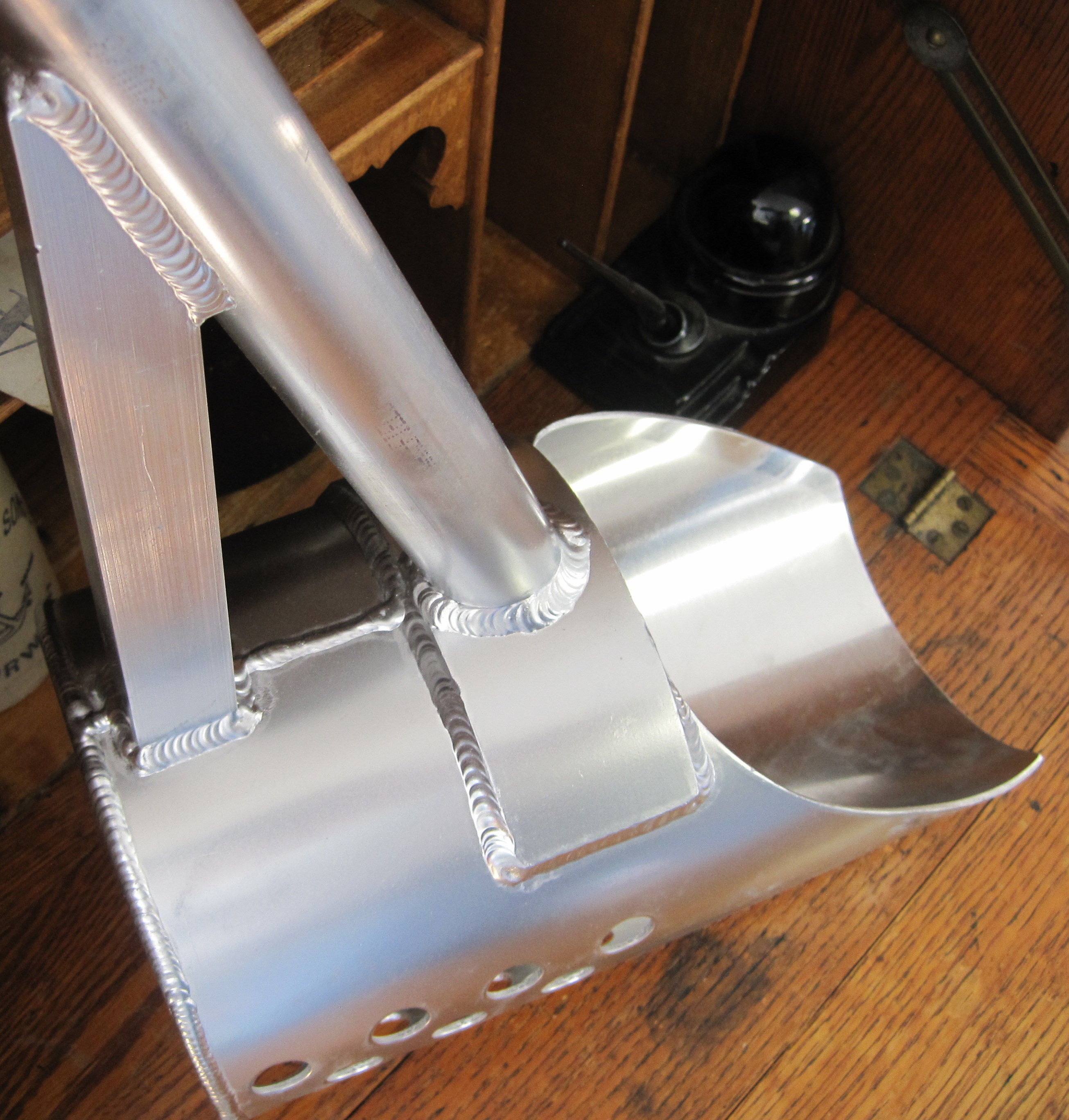 $135.00
This is a very-sturdy well-built
scoop! When customers lift it, they are always surprised how light it actually is! It is weighing in at only 4-pounds!

It looks like it is built like a tank . . . because it is!






TIP: The aluminum basket's bill will last for many years for the casual hunter like myself. The aggressive hunters rivet a stainless steel lip on the bill for a longer wear factor.



---


I always try to keep this one in stock but because of the long handle it doesn't ship well. It takes a long carton and is charged as oversized.

If I stand this scoop, up on the bill, so the handle points straight-up, from the floor to the top of the handle grip it measures 4 feet.



TIP:

One of the tricks I have seen with this one is, get one of the bright colored foam kid's swimming noodles
and lash it over the handle like pipe-insulation. That way the handle will become buoyant enough to point up when released from your hand. The bright color orange yellow or pink will be easier to spot.



TIP:

With this scoop and the White's HexScoops, a magnet will not stay in the basket. But, you should have a magnet! Find one that you can wire in place in the basket to capture nails, hairpins and sparkler wires!






TIP: Always protect yourself from the cold! Even the water that seems warm can drop your core body temperature, in time, to dangerous levels!










---
Three Piece Beach Basket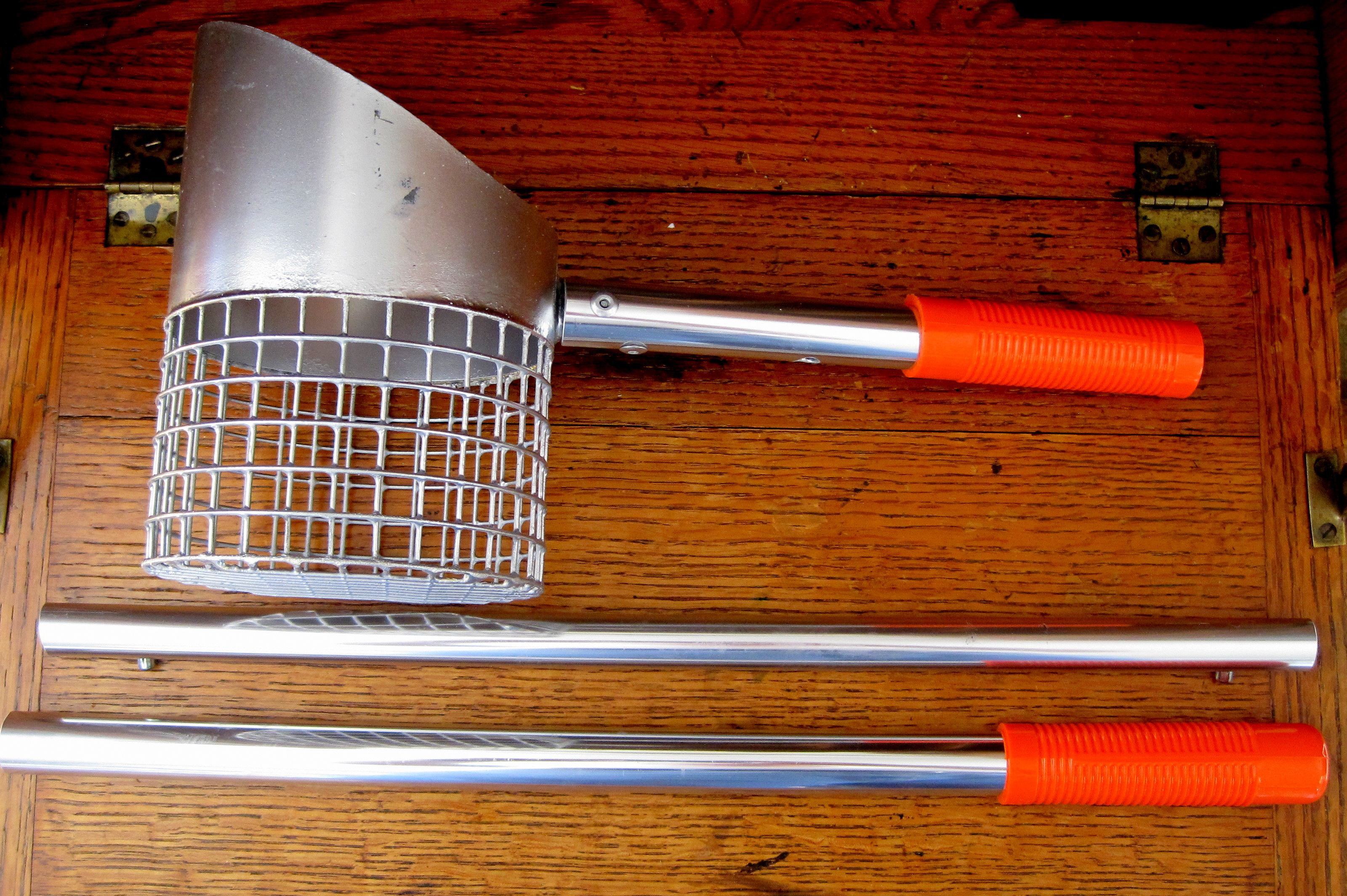 This is a popular scoop for the beach combers!
It is a lightweight scoop built for the dry sand and light duty shallow water hunting.



TIP:

This is not built as a water hunter's scoop, where you can step down on it like on a shovel!

It will not survive that sort of digging!


It is a beach scoop, and for that purpose, it is a valuable tool!

---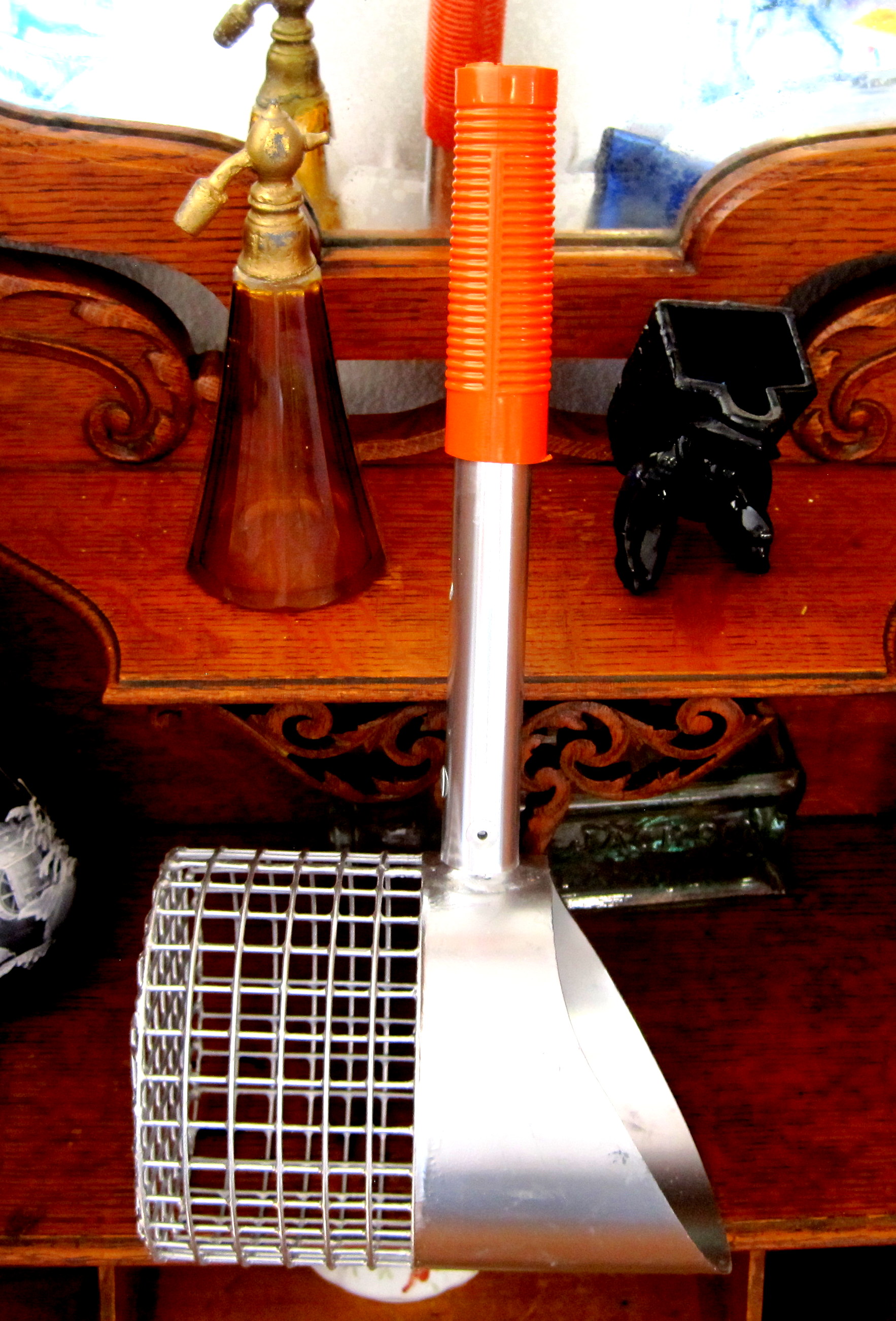 This scoop is popular with the rock and gem hunters!

With the handle extension removed it makes a handy shorty basket.

The wire mesh is extremely fast draining!

With the handle extensions, it works great for shallow water recovery, or, for the beach hunter who cannot bend over.


The wire mesh is hardware cloth and the bill is made from light steel. The materials are brazed together. The upper handle 2 piece aluminum with spring locks.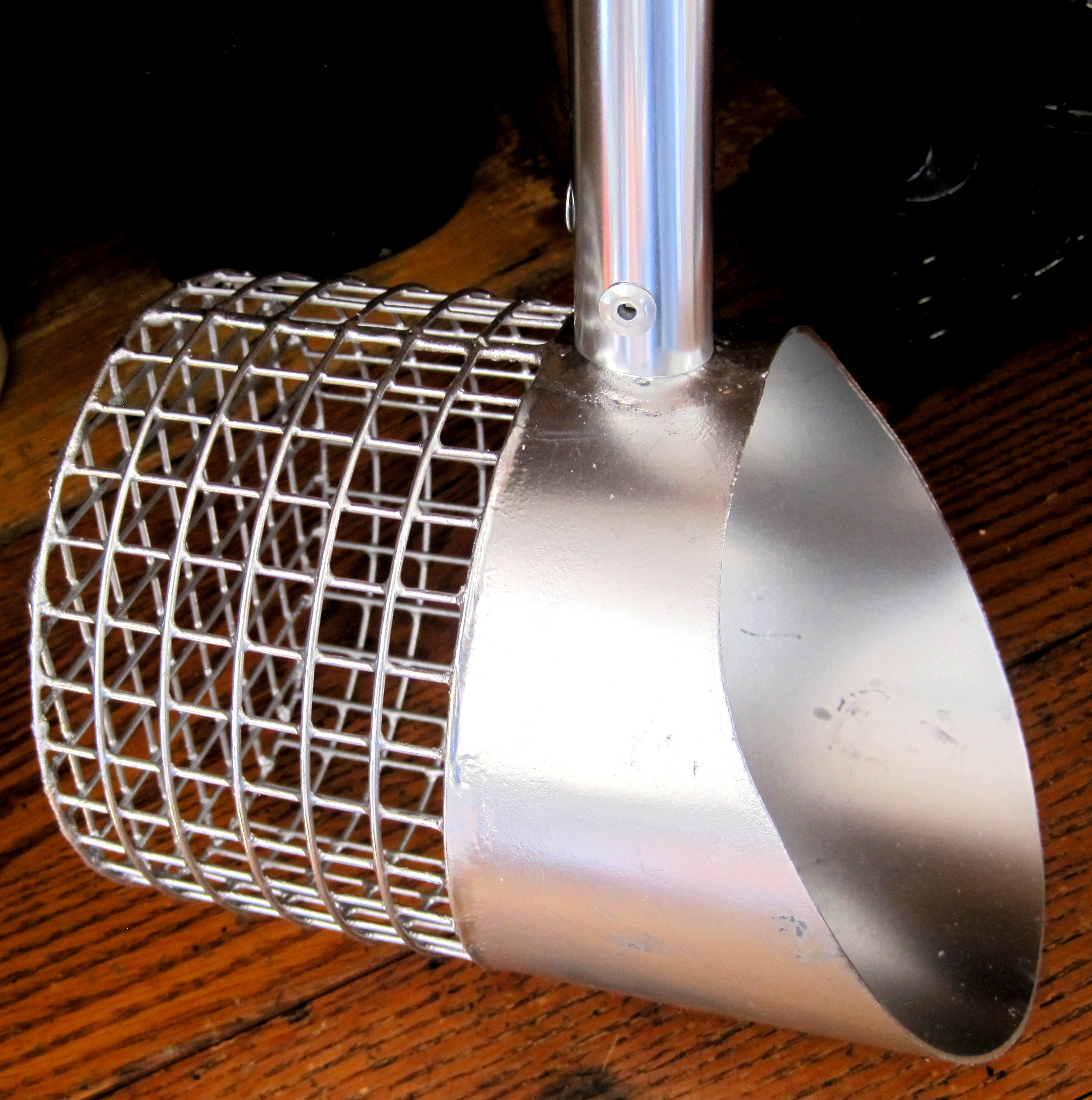 The basket is 5" diameter.
From the bill-tip to the basket's back-wall is 7" deep.


Fully extended the scoop
is 39.5" tall.


$ 59.00